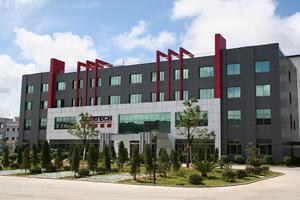 Zhejiang Geartech Machinery Co.,Ltd. was founded in 2001 and is a specialized manufacturer of complete production lines for metal materials. Our metal wall panel production lines include aluminum composite panel lines, aluminum coil coating lines, flameproof aluminum composite panel lines, and steel sheet hot dip galvanizing lines among others.

Factory panorama
These pieces of equipment are suitable for the production of a wide range of materials and those materials are then repurposed for an even larger number of applications. Our equipment is popular in South Korea, the United Arab Emirates, Brazil, India, the United Kingdom, Iran, Romania, Vietnam and other more than 20 other countries. We have gained a stellar reputation with clients hailing from all over the word, and for good reason, we supply great quality products with an extended service life for a very competitive price.
To date, Geartech Company has designed and developed a comprehensive catalog of products consisting of several different models to meet the dynamic production demands of our customers. After more than 10 years of consistent innovation our company has garnered a series of prestigious achievements and praise. Our aluminum composite panel production line makes up more than 60% of the aluminum panel industry in China.
We have earned ISO quality management system certification along with ISO14001 environmental management system, OHSAS188001 occupational health and safety management system, and CE certification. These certifications let clients know our products are top notch!
Geartech Company has also been named a council member of the Metal Composite Materials Branch of the China Building Materials Association and have been awarded a number of honorary titles, such as a national high-tech enterprise designation, a good creditworthiness designation from Zhejiang, and a Taizhou famous trademark.
Since our inception, Geartech has been dedicated to innovation, pushing forward research and development projects to supply our customers with the best equipment on the market. Our aluminum composite panel production line, steel coil, aluminum coil coating line, flameproof aluminum composite panel machine line, PVC foam board machine line, corrugated core metal composite panel machine line, steel sheet hot dip galvanizing line, steel coil film laminated line, and reflective insulation steel sheet line have all been the results of highly motivated and talented individuals looking to provide optimal value to customers through their work.
In addition to all of our amazing lines of products, we can also provide customers with a whole suite of services including custom design, installation, debugging, training, and maintenance programs.