Steel Sheet Hot Dip Galvanizing Line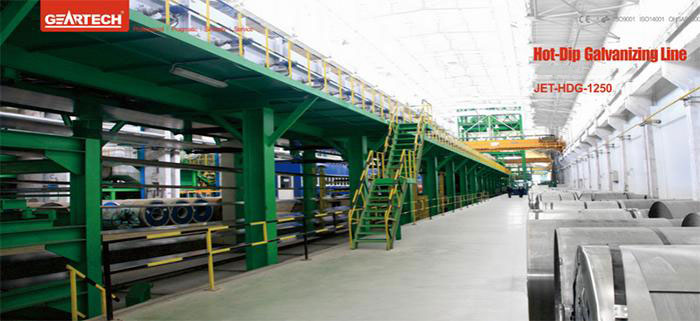 Product details
Description
The steel sheet hot dip galvanizing line is to produce galvanized sheet with easy coating and high corrosion resistance properties, which is made of cold rolled steel sheet and finished after degreasing, anneal, hot-dip galvanizing, temper, passivation and coating. The galvanized sheet can be applied in fields of construction, vehicle, electrical appliance, color coating and etc.
Features
1. Adopt USS(United States Steel) method
2. Use multi-module PLC control system
3. The quality of galvanized layer accords with national standard GB2518-88. Non zinc removal in test.
4. Mature technics and easy operation
Parameters of optional model
| | |
| --- | --- |
| Model | JET-HDG-1250 |
| Raw material | cold rolled steel coil |
| Thickness of coil | 0.2-1.2mm |
| Width of coil | 600-1250mm |
| Inner diameter of coil | 508mm |
| Outer diameter of coil | 2100mm(Max) |
| Output | 150,000 mt/y |
| Weight of coil | 20mt(Max) |
| Production speed | 30-150m/min |
| The galvanizing layer thickness(both sides) | 30-300g/m2 |
In addition to the above model, customized model is also supported.
Application of galvanized sheet
The galvanized steel sheet is applicable to construction, automobiles, electrical appliances, color coating industry.
Galvanized steel sheet
Application
Components
Equipment 1
Inlet section
The inlet section includes feeding, uncoiling, pinch, straightening, welding, cleaning, entry looper, which can maintain the tension of steel coil, change coil without boot up, clean coil surface, bake and coat with passivation, thus providing the steel coil with excellent corrosion resistance.
Equipment 2
Anneal and hot-dip
Hot dip galvanizing steel sheet adopts on-line continuous annealing technics, which is the key to the production of high-strength dual-phase steel hot dip galvanized product and directly affects the platability and surface quality of the high strength steel. The galvanization process is to be done after finishing annealing.
Equipment 3
Cooling and flattening unit
After finishing hot dip galvanizing, the unit is used for cooling and flattening the panel to attain fine flatness and proper surface roughness.
Equipment 4
Outlet section
The outlet section is primarily composed of coiling, pinch and exit looper, which maintains the tension during coiling.
Equipment 5
Electronic control system
The system chiefly controls the whole machine unit by electricity.
Other products