Steel Coil Coating Line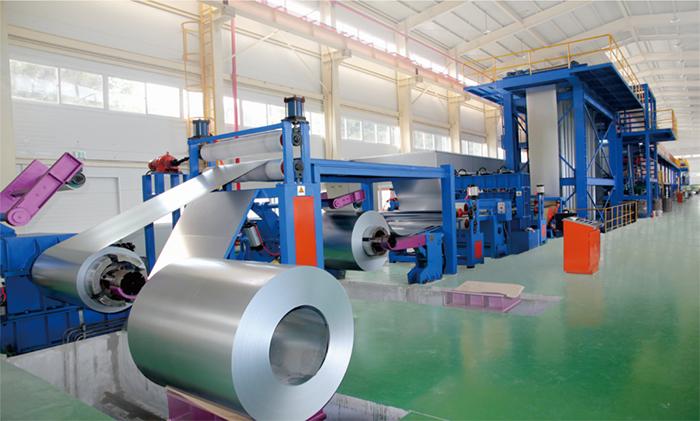 Description:
The color coated steel panel, made of galvanized steel plate, is finished through degreasing, phosphating, chromating, coating with organic paint and baking.
Features:
1. The waste gas in oven can be recycled by burning to generate heat
2. Use multi-module PLC control system
3. Easy operation and high coating precision
4. Wide range of raw material, which can be galvanized steel panel, Zinc-Al panel and cold rolled panel
Product details
Application of color coated steel panel:
The color coated steel panel color coated panel, can be widely used in fields of construction(such as corrugated panel and sandwich panel), electric appliance and decoration.
Parameters of optional models:
Model
  JETX-1250/30-120
Raw material:
Galvanized steel plate
Size of raw material:
Thickness:0.2-1.2mm / Width:600-1250mm
Inner diameter of coil:
508mm
Outer diameter of coil:
1500mm(Max)
Weight of coil:
16MT(Max)
Production speed:
150m/min(Max) for thickness 0.20-0.35mm
90m/min(Max) for thickness 0.40-0.80mm
60m/min(Max) for thickness 0.80-1.20mm
Besides the model above, we can also provide customized services for different requirements.
Components:
Equipment 1:
Mechanical equipment
The mechanical equipment includes coil car, uncoiler and rack, pinch roll, seaming device, looping tower, coil stripping car, work platform and other major parts. The mechanical part is chiefly to ensure the uncoiling and coiling of the steel coil, to seam the steel coil and maintain the required tension during the transmission.
Equipment 2
Coating unit
Upper side paint is coated by two coating machines which have three rollers on each machine, and the color can be changed without stopping the coating line.
Equipment 3
Drying unit
The baking oven consisting of chamber, internal bellows, external circulation pipeline, circulation fan and exhaust pipe, is mainly used to bake the finish and primer of the color coated steel coil as well as collect the exhaust gas.
Equipment 4
Pre-processing unit
The pre-processing unit generally includes brushing, degreasing, compound lye spraying, cleaning, passivating, coating, baking and cooling. It is chiefly in charge of cleaning the surface of steel coil and coating with passivator after baked, which provides the steel coil with excellent corrosion resistance.
Equipment 5
Auxiliary system
The auxiliary system is primarily composed of auxiliary hydraulic system, exhaust gas treatment system, water cleaning and circulation system. The auxiliary hydraulic system generally located in the uncoiling area, middle area and coiling area, which provides power oil source for hydraulic drive cylinders and motors of the whole machine unit. The exhaust treatment system is mainly for combustion reprocessing after collecting the exhaust from color coating and drying stove, and the heat generated will enter the curing oven to keep its temperature. Besides, the water cleaning circulation system mainly deals with the water of which the surface remaining cleaning liquid.
Equipment 6
Electronic control system
The electronic control system chiefly controls the whole machine unit with electricity.
Other products