Aluminum Coil Coating Line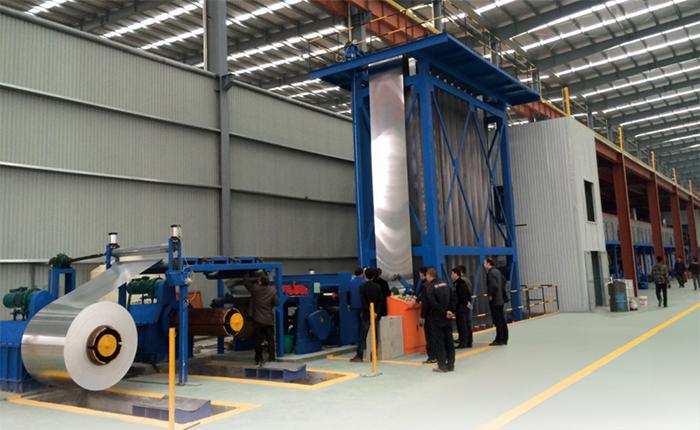 Product details
Description:
Color coated aluminum coil, finished through the process of degreasing, cleaning, passivation, coating and baking, is mainly used in fields of construction decoration such as ACP(aluminum composite panel), ceiling and hydrophilic aluminum foil on the radiator.
Features:
1. Using rolling coater, coating thickness is stable
2. AC(Acrylic resin), PE(polyester resin) and PVDF(fluorocarbon resin) can be used as paint
3. Multi-module PLC control system is adopted
4. Heating and drying system controlled by electricity, liquefied gas or diesel oil
Application of color coated aluminum coil:
The color coated aluminum coil is mainly used in ACP(aluminum composite panel), ceiling, hydrophilic aluminum foil on the radiator.
Main Parameters:
| | |
| --- | --- |
| Model | JET-DC-1300CL/JET-DC-1600CL |
| Raw material | 1100 3003 5005 |
| Paint | PVDF、PE、AC) |
| Size of raw material | Thickness:0.02-0.8mm;Width:800-1600mm |
| Weight of coil | 3000-5000KG |
| Production speed | 10-50m/min |
| Speed of uncoil | 45m/min |
| Connecting time | ≦2 min |
| Noise | ≦80(db) |
| Thickness of coating | 10-50um±2um |
In addition to the models above, we can also provide customized service according to customers' requirements.
Components:
Equipment 1:
Uncoiling unit
The uncoiling unit mainly consisting of uncoiler, splicer, tractor and storage tower, can guarantee non-stop production and therefore reducing production cost.
Equipment 2:
Pre-processing unit
It consists of four part: degreasing tank, clear water tank, chromizing tank, mainly aiming at the cleaning and chromizing of aluminum coil.
Equipment 3
Coating and drying unit
Including coating and paint drying parts, it is used for aluminum coil color coating and drying.
Equipment 4
Exhaust and water treatment unit
The exhaust treatment system is mainly for combustion reprocessing after collecting the exhaust generated by color coating and drying stove. And the water cleaning circulation system mainly deals with the water of which the surface remaining cleaning liquid.
Equipment 5
Electronic control system
The electronic control system primarily controls the machine unit with electricity, to ensure the accuracy of color coating and rectification of aluminum coil.
Other products