PVC Foam Board Machine Line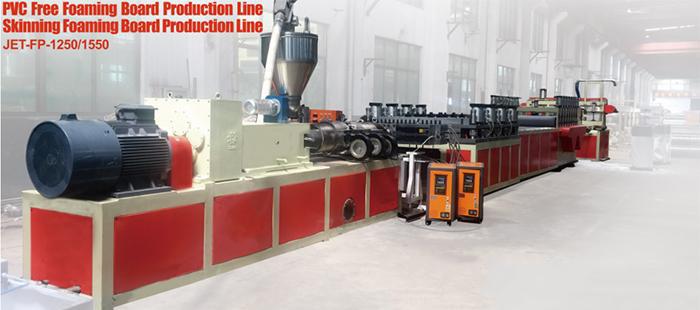 Product details
Description of PVC Foam Board Machine Line
The PVC foam board machine is a kind of PVC panel extrusion machine. PVC foam board produced by the machine has good performance in sound insulation, heat insulation and preservation, flame resistance, moisture-proof, rot resistance, non-absorbency, shockproof and lightweight, making it easy for transportation.
Features of PVC Foam Board Machine Line
A. Consist of special double screw extruder, die and auxiliary equipment
B. Provide formula and complete set of technics
C. High output, stable extrusion, high foaming multiplying factor, smooth surface and excellent wear resistance
Parameters of optional PVC Foam Board Machine Lines
| | |
| --- | --- |
| Model | JET-FP-1250 |
| Width of product (mm) | 1250 |
| Thickness of product (mm) | 2-20 |
| Extruder type | JET80/156 |
| Max output(kg/h) | 350 |
| Power of main motor(kw) | 75 |
| | |
| --- | --- |
| Model | JET-FP-1550 |
| Width of product (mm) | 1550 |
| Thickness of product (mm) | 3-20 |
| Extruder type | JET92/1188 |
| Max output(kg/h) | 550 |
| Power of main motor(kw) | 110 |
Besides the models above, we can provide customized service for different requirement.
Application of foam board
Th PVC foam board can be widely used in the fields of transportation industry(such as vehicles, steamships, airplanes), inner and outer building decoration, advertisement board, chemical anticorrosion engineering and environmental protection.
PVC foam board
Application
Components
Equipment 1
Extruder
PVC(polyvinyl chloride) material is melted at high temperature in the barrel screw and then extruded from mold cavity after its thickness adjusted by foaming.
Equipment 2
Calender
After extruded by the T-die, the calibrator or calender is to mold the material by cold pressing.
Equipment 3
Transporting and trimming unit
The unit is primarily for trimming the edges of the board and for transmission.
Equipment 4
Cutting and stacking unit
The cutting section can realize the fixed-length transverse and longitudinal edge saw of the product. The central longitudinal cutting part consists of two devices. Besides, all the saw blades are made of high quality alloy, and automatic metering is adopted. The clearance between two crosscut blanking conveyor rollers is 100 mm. The final product will be stacked on the platform after cutting.
Equipment 5
Electronic control unit
It is in charge of the control of whole machine unit.
Other products