Reflective Insulation Steel Sheet Line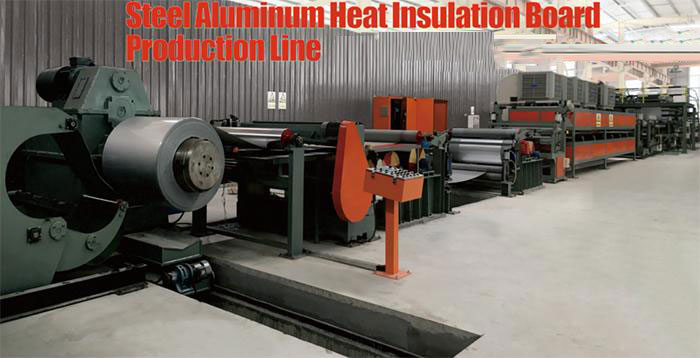 Description
The reflective insulation steel sheet line adopting high-tech, compounded by two sides anti-aging nanometer aluminum film and color galvanized steel, has reflective heat insulation, anti-ageing, anti-corrosion and acid-proof alkaline of metal roofing materials.
Aluminum foil layer, the outer surface of steel aluminum heat insulation board, can reflect the sunlight and infrared heat from the metal surface. In the infrared wavelength range 0 .76-1.05mm, the reflectivity is up to 75%-100%, which accounts for the high heat insulation efficiency.
Steel aluminum heat insulation board is composed of two sides anti-aging aluminum film, nanocomposites, and 55% color galvanized steel of the center layer. The thermal conductivity of the anti-aging nanometer foil film and nanocomposites is 0.18%W/(m.k) and 0.19%W/(m.k) respectively. You will not feel cold when holding it at low temperature, and factories made of which provide excellent heat insulation.
Product details
Parameters of optional model
| | |
| --- | --- |
| Model | JET-SA-1250 |
| Inner diameter | Φ508mm |
| Compounding width | 800-1250mm |
| Aluminum coil thickness | 0.02-0.15mm |
| Steel coil thickness | 0.15-0.8mm |
| Compounding speed | 10-20m/min |
In addition to the above model, we provide customization service according to customers requirement.
Reflective insulation steel sheet
Other products