Flameproof Aluminum Composite Panel Machine Line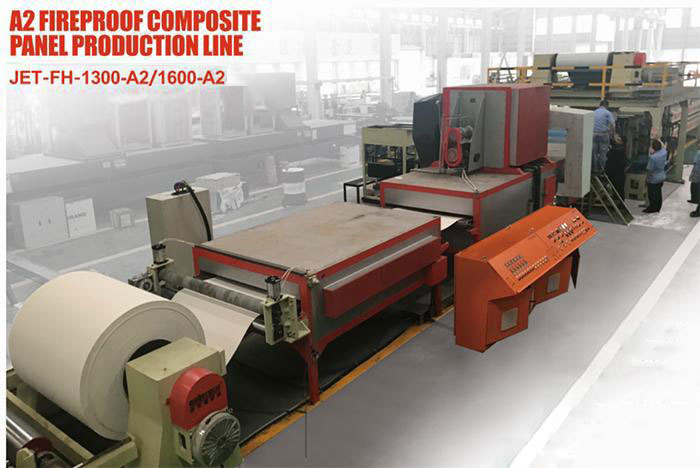 Description
The flameproof composite panel is a new type of non-combustible decoration material, which uses non-combustible inorganic material as the core material and coated aluminum panel(or copper, steel and other metal panel) as its surface. Advanced technology is adopted to make the structural insulated panel perfect combination, thus forming a new generation of indoor and outdoor decoration material, which is of stylish appearance, superior performance and convenient construction. The flameproof composite panel can be widely used in interior and exterior decoration of various kinds of building.
Features
1. Made of incombustible inorganic material and metal panel, perfect combination of strength, flexibility, fireproof, moisture-proof, heating insulation, insulation and decoration
2. Excellent fireproof performance. In the combustion test, no fire spread, no halogen, no smoke, no toxic, no drip, no radiation, all of these prove unparalleled safety performance as well as green environmental protection property of the product.
3. Superior decorative performance. The product is of elegant and beautiful appearance, corrosion resistance, pollution resistance and long durability.
4. Perfect combination of strength and flexibility, which completely compensates for the deficiency of strength of aluminum composite panel. Double curve shape is available, simple installation and maintenance.
Parameters of optional models
| | | |
| --- | --- | --- |
| Model | JET-FH-1300-A2 | JET-FH-1600-A2 |
| Center Height (mm) | 1100 | 1100 |
| Production Speed (m/min) | 0-6 | 0-6 |
| Power (Kw/h) | 120 | 135 |
| Width of product (mm) | 800-1300 | 800-1600 |
| Dimension (mm) | 47000×3600×3500 | 47000×3800×3500 |
In addition to the above models, customized model is also supported.
Product details
Application of composite panel
This new light insulated building panel can be widely applied to curtain wall, ceiling and non-bearing partitions of public building decoration, subway, stations, theaters, factories, hotels, office buildings and homes.
Components
Equipment 1
Core material uncoiling part
This part is mainly for uncoiling the inorganic core material.
Equipment 2
Uncoiling machine
The single wall movable uncoiling machine with upper and lower sliding blocks, cooperating with high-precision magnetic powder tension control system, can transport the color coated aluminum coil to compound machine unit, at the same time the tension requirement for continuous production is also satisfied.
Equipment 3
Compound machine unit
At proper temperature, pre compound PE core panel, upper and lower aluminum coils in the first and second sets of compound machine unit. After that they will be molded through the process of hot press rolling and finish rolling.
Equipment 4
Cooling unit
The air-quantity adjustable air-cooled cooling unit is to cool the composite panel, guaranteeing it is cooled to normal temperature in a stable curve manner after passing compound machine unit. Besides, temperature requirement of covering with protective film can be satisfied.
Equipment 5
Cut-to-length sensor
After cooling, flattening and trimming, the cut-to-length sensor will generate a feedback signal, indicating that the shearing machine clamps the panel to move synchronously in the conveying direction. After cut off, the shearing machine will automatically return to its original position. Then dimensional precision of shearing panel is well guaranteed.
Other products